The Sikh Education Council's quarterly publication 'Sikh Sunehan' has been published periodically for over twenty-five years. The publication is a vehicle for aspiring academic writers, but more importantly a bridge between those actively engaged in Sikh Studies and the Sikh Sangat at large.
Sikh Sunehan is distributed free of charge to members of our classes and circles, and to attendees of other programmes including quarterly public seminars. However, members of the public can request a years worth of the publication (4 editions) to be delivered directly to their home address by making a one-off donation of £25 (see below).
Submissions for publication are welcomed primarily of academic articles, but also of works of poetry, short stories and book reviews pertaining or relating to the Sikh way of life. Abstracts should be sent by message form in the first instance for consideration.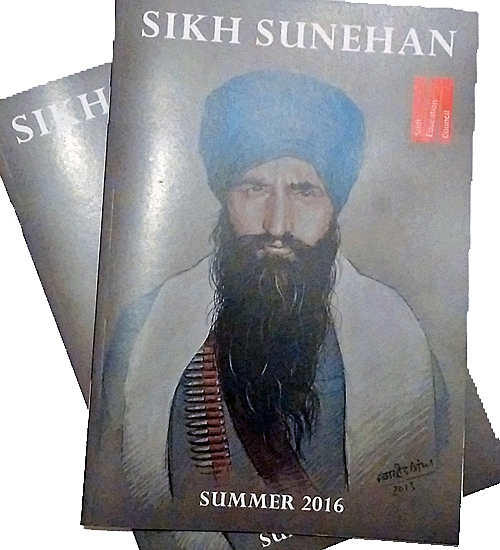 Support the free distribution of Sikh Sunehan
1. Click on the button below
2. Select 'Single Donation' for the amount of '£25'
3. Use the 'Personalise your donation' box to provide us with a delivery address to receive the most recent four editions of the publication
*You can receive your quarterly copy of Sikh Sunehan for FREE by attending an SEC event or enrolling on an SEC programme of study.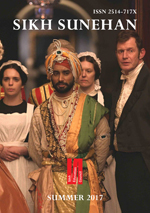 SUMMER 2017
Why Darbar Sahib and not Golden Temple?
DR PARGAT SINGH & HARWINDER SINGH
The Black Prince
JASJEET SINGH
Socio-political implications of recent refurbishment and architectural changes to Darbar Sahib
PARAMDIP KAUR
The nature of "Sikh 'radicalisation' in Britain"
DR JASJIT SINGH
Operation Blue Star – The Clash of Civilisations
AVTAR SINGH
Review – 'Bhagat Singh', Panj Teer Records & Heritage Productions
HARWINDER SINGH
Behind the cover art
JASJEET SINGH
SPRING 2017
The real 'Shabeel' of 1606
RANVEER SINGH
Anandpur Sahib Resolution

How the 18th Century Khalsa Republic can inspire tolerance today
DR PARGAT SINGH
New life
GURLEEN KAUR
Celebrating Hola Mohalla
HARWINDER SINGH
Review – 'Shaheed Kartar Singh Sarabha' by Ajmer Singh
AVTAR SINGH
Behind the cover art
BALJINDER KAUR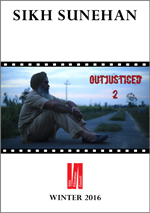 WINTER 2016
Dismissing the politics of unity: internal protocol and Khalsa Raj
HARWINDER SINGH
Understanding Indian strategies to contain Sikh Nationalism by destroying Sikh cultural memory
DR JASVIR SINGH
President Trump: Why we should still love America(ns)
PARMJIT SINGH
A brief exploration of Guru period macro urbanism and its relevance to the exposition of the Sikh world view
RANJEET SINGH SHAHI
The loneliness of Sikhs
AVTAR SINGH
Review – 'Outjusticed 2', Sikh Siyasat
JAGDIP SINGH
Behind the cover art
PARMJEET SINGH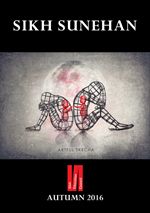 AUTUMN 2016
The Legacy of the Mughals from a Sikh Perspective
DR PARGAT SINGH & PALBINDER SINGH
Collections and collectors in the court of Ranjit Singh
PARAMDIP KAUR
The neuro-biology of depression
DR PALWINDER KAUR MANDER
Depression, stigma and South Asians
DR ONKAR SINGH REHAL
Reasserting meaning to the Anand Karaj
HARWINDER SINGH
Review – 'Snapshots of Punjab' by Saffron Mic
RANBIR SINGH
Behind the cover art
ARTFUL SKECHA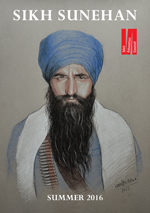 SUMMER 2016
Reflections on Maharani Jind Kaur
KIRAN BHOGAL
The Assassination of Sant Jarnail Singh Bhindranwale
HARWINDER SINGH
Debating Nationalism in India
AVTAR SINGH
From Kavis to Rappers: The Transformative Power of Hip-hop for Sikhs
NARVIR SINGH
The effects of Abrahamic and Brahminical influences on Sikhi
RANVEER SINGH
Review – 'Wings: Flyboy' by Tom Palmer
UTTAM SINGH
Behind the cover art
JASPREET SINGH