AUTUMN SEMINAR 2018
DATE: Sunday 23 September 2018
TIME: 9am-12.30pm
LOCATION: hub by Premier Inn London Kings Cross
50 Wharfdale Road, Kings Cross, London, N1 9FA
PAPERS:
'Ramifications of the Justice Ranjit Singh Commission Report', HARWINDER SINGH
'Sikh students and current affairs' TBA
This event is now at full capacity. If you wish to place your name on the reserve list to attend should anybody drop out, complete the form and we'll be in touch if a space opens up.
FUTURE QUARTERLY SEMINARS
WINTER SEMINAR 2018
DATE: Sunday 2 December 2018
LOCATION: Southall
PAPERS: TBA
SPRING SEMINAR & HOLA MOHALLA CELEBRATION 2019
DATE: Sunday 24 March 2019
LOCATION: Birmingham
PAPERS:
TBA
SUMMER SEMINAR 2019
DATE: Sunday 30 June 2019
LOCATION: TBA
PAPERS: TBA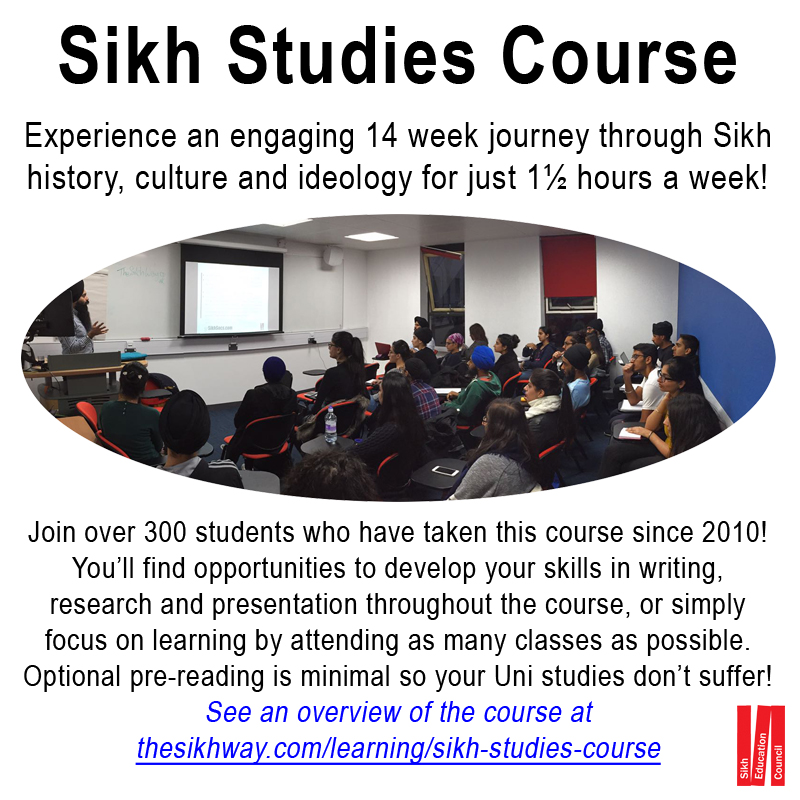 Classes currently run in central London, Slough, and the West Midlands. We expect to bring the course to Gravesend and Leicester next. Please complete the form below to indicate your interest in either of those locations, or if you would like us to try and bring the Sikh Studies course to a town or city near you, please select 'Other' and tell us where. We can't promise we'll be able to, but we will certainly try!
Sikh Studies course interest