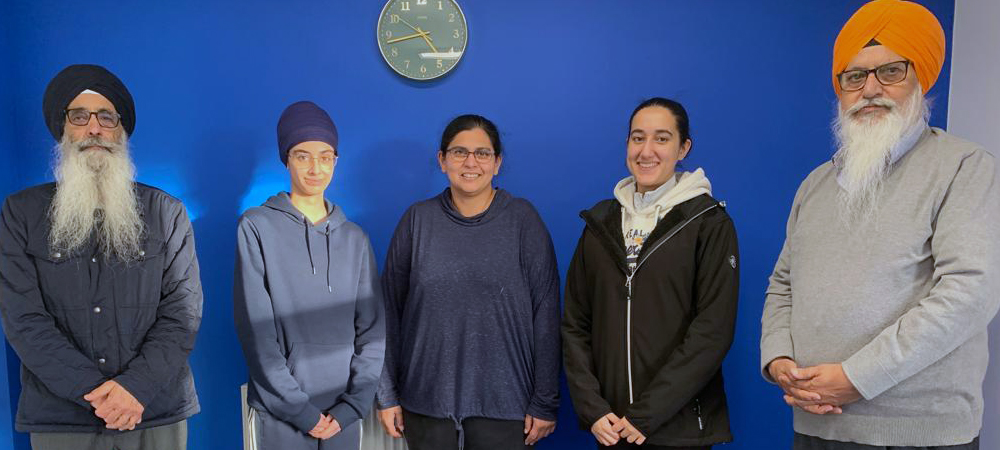 The Sikh Education Council ran its first Netball Skills Day on Wednesday 27 October in conjunction with Gurdwara Sri Guru Singh Sabha Southall. Girls from the local and surrounding area in the town were offered the opportunity to spend a whole day building key skills in passing, shooting and footwork, as well as teamwork and general fitness, completely free of charge. The day was organised by the Sikh Education Council and hosted by Singh Sabha Southall (Park Avenue) at the Giani Ditt Singh Hall for pre and post training workshop, and as a drop-off and collection point.
Singh Sabha Southall's General Secretary Harmeet Singh helped to make the day happen alongside volunteers from the SEC. He commented, "Girls sports are all too often side-lined during the term time in our communities, and troublingly we don't offer enough during the holidays either. It is fundamental that we work just as hard to encourage the female members of our Sangat to be active and competitive in gaining important skills on the playing field and so we are really pleased that the Sikh Education Council selected Southall as their first location for a Netball Skills Day. It is great for Singh Sabha to be associated with this event and to encourage our young girls to participate." 
SEC Chairperson Dr Pargat Singh was on hand at the close of day to commend the netball coaches and to reward them with the support needed to gain their coaching qualifications from England Netball. Dr Singh remarked, "Historically, the SEC supported girls playing netball competitively at a time when it was very unpopular to do so and sadly we were not able to push that through over the years. I am so pleased that this has been reborn now at a time when we all have a greater desire to be more active and get out and I am very pleased with all four of the coaches for providing this seva to the community."
Coach and SEC project co-ordinator Palwinder Kaur benefitted from the support shown by the SEC to girls in sports when she was younger, stating, "I'm so pleased to be part of this initiative and give back in return what I received – it meant so much to me as a teenager to know that I could compete in sports just as my brothers did and the SEC-run tournaments were a big part of that. Now we hope to build on this day and give more Sikh girls the guidance they need to get active in sports through these Netball Skills Days." Dr Pargat Singh added, "It is appropriate that Palwinder is part of this project as we have seen her grow from a young participant decades ago into a valued coach today."
The Netball Skills Day is run by an all-female coaching team of netball enthusiasts whose aim is to encourage younger generations of Sikh girls to pick up the sport. Not only are sporting skills provided, but guidance too that will help with the specific needs and situations that many young Sikh girls find themselves in when contemplating playing sports like netball. The coaches come from a range of experiences in playing netball including representing at county level. Future Netball Skills Days will take place during school holidays in different locations; to be kept informed visit our project page.
Photo Top (l-r): Sardar Kulwant Singh Bhinder, committee member Singh Sabha Southall; three of the four netball coaches Amann Kaur, Palwinder Kaur, Harpreet Kaur; SEC Chair Dr Pargat Singh.
Photo Right: girls at the netball training day